News
Posted on Thursday, May 05, 2022 09:29 AM
Money available to support new and existing residential rental units and accessory dwellings
The Town of St. Marys wants to create more attainable housing options in the community – and its offering cash to local property owners to make it happen.
The push for attainable housing is part of the Town's Community Improvement Plan (CIP). The CIP provides money to private property owners to support projects that help achieve the municipality's planning and development goals. One of the major aims of the...
Posted on Tuesday, May 03, 2022 09:36 AM
The Town of St. Marys and Lavis Contracting completed a temporary repair on the sanitary sewer on Huron Street at Elgin Street East during the week of April 25, 2022. A visual and video inspection of the pipe was completed while the repair was being done.
The inspections revealed a three-block stretch of pipe that requires immediate replacement. Construction crews are being redeployed from the ongoing Wellington Street reconstruction project to address this urgent issue.
Details
The sanitary sewer...
Posted on Thursday, April 28, 2022 11:49 AM
Sections of Huron Street South, Elgin Street East, Jones Street East and Elizabeth Street are currently closed due to an emergency sanitary sewer replacement.
Read our public notice for full details.
Posted on Thursday, April 28, 2022 10:41 AM
Sections of Huron Street South, Elgin Street East and Jones Street East will remain closed until at least May 10, 2022, as the Town of St. Marys continues to perform emergency repairs to the sanitary system.
The work is taking longer than originally expected due to the severe localized degradation of the sanitary pipes.
Impacts to the public
Until April 29, 2022
A loud construction pump will be running constantly to maintain sanitary sewer service
Until May 10, 2022
Huron Street South will be...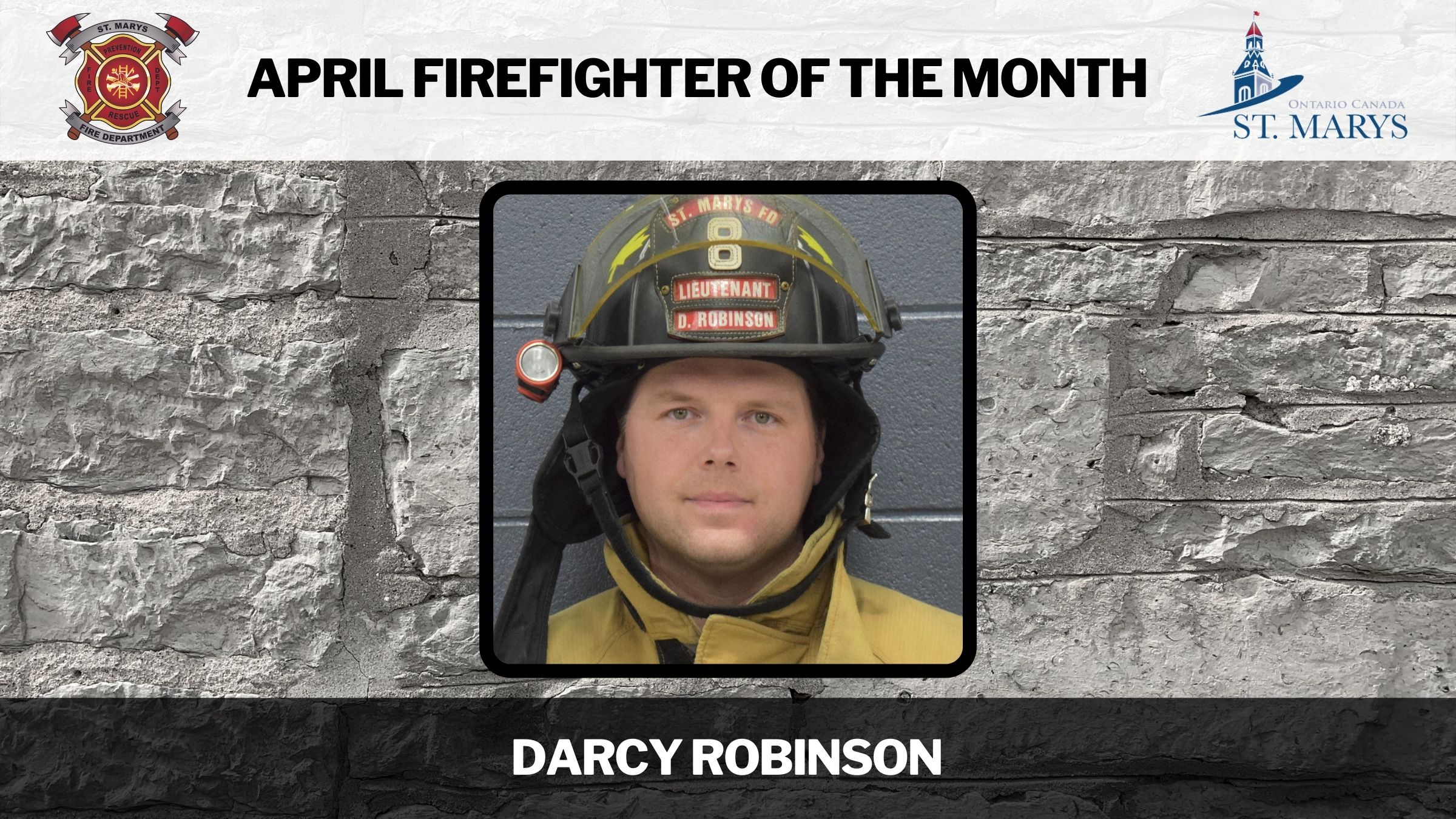 Posted on Monday, April 25, 2022 10:53 AM
This April the St. Marys Fire Department is honouring Lieutenant Darcy Robinson as Firefighter of the Month.
"My father, Dale, joined the department when I was only a few months old and recently retired after 32 years," says Robinson, "I grew up around the fire hall and helped with various community service events. I knew there was a strong bond between the firefighters; they would often bring all their families together several times a year for various celebrations. The camaraderie, sense of community...