News
Posted on Wednesday, May 25, 2022 02:53 PM
Pride flag and banner program to build inclusivity in June and beyond
The Town of St. Marys will raise and display the rainbow Pride flag throughout the month of June, starting with a ceremony on Wednesday, June 1.
The rainbow Pride flag will be flown at municipal facilities throughout June, with the flag-raising ceremony taking place at Town Hall at 9:15 a.m. to mark the beginning of Pride Month. In addition to words from Mayor Al Strathdee, representatives from Stratford-Perth Pride will also speak...
Posted on Tuesday, May 24, 2022 03:32 PM
Huron Street closure also extended to Rogers Avenue
Details
Elizabeth Street closure
Elizabeth St. is closed from James St. S to Brock St. S to accommodate sanitary sewer replacement work that that is being done at the intersection of Huron St. S and Elizabeth St. The closure is expected to be in place for approximately three weeks.
Elizabeth St. residents will have access to their driveways throughout the closure and are asked to place their garbage and recycling to the curb as usual.
Huron Street...
Posted on Tuesday, May 17, 2022 09:37 AM
Downtown businesses asked to display posters for month of June
Visitors to downtown St. Marys will soon have an opportunity to learn the history and meaning behind 11 different LGBTQ+ flags, thanks to the efforts of local students.
A Grade 7 class from St. Marys DCVI is creating a series of posters about the flags that represent different groups within the LGBTQ+ community. These same flags will adorn banners on the light posts in St. Marys' downtown as part of the Town's Pride Month celebrations.
The...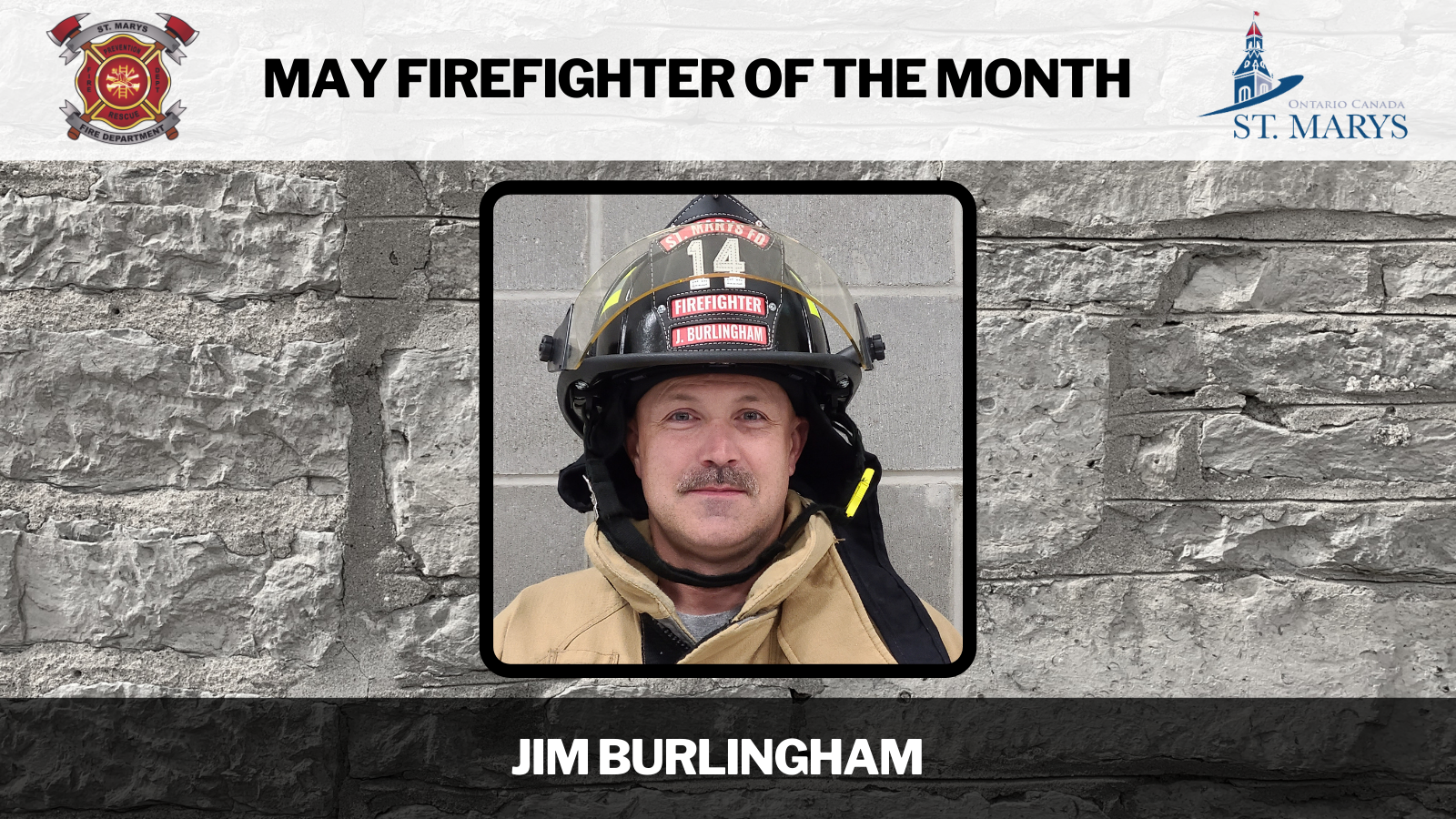 Posted on Monday, May 16, 2022 04:41 PM
The St. Marys Fire Department is honouring Jim Burlingham as Firefighter of the Month for May.
Burlingham joined the department in 2006. Born and raised in Mitchell, he recalls the firehall being a key part of his childhood.
"I would race to the firehall on my bicycle whenever I heard the siren and sneak a look at the chalkboard inside the bay doors indicating the call address," says Burlingham.
One of the main reasons he became a firefighter was to help others. "I was able to fulfill my desire to...
Posted on Monday, May 16, 2022 08:51 AM
Town Hall will be closed from May 26 to June 3 due to scheduled facility maintenance.
Town staff will be working throughout the closures and will be available by phone or email during regular business hours (8:30 am to 4:30 pm).
A number of payment options for property taxes will be available during the closure. The second installment for 2022 is due May 31.
Read our notice for full details.